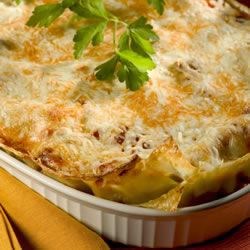 Photo from allrecipes.com
This was an experiment to use up some stray vegetables and random tubs of ricotta and pesto. I personally loved it. The husbands reaction was as it always is with meatless dinners: "it's interesting." Give it a try! Try original recipe calls for pumpkin, eggplant, and fresh tomatoes instead of squash, bell pepper and canned tomatoes. Use what you'd like!
Ingredients:
1 small butternut squash, peeled and diced
1 green bell pepper, sliced into 1/2 inch rings
1 can diced tomatoes
1 pint ricotta cheese
9 ounces crumbled feta cheese
1 7-oz container pesto
2 eggs, beaten
salt and pepper to taste
1/2 tsp Italian herb seasoning
1 (15 ounce) can tomato sauce
9 oven ready lasagna noodles
2 cups shredded mozzarella cheese
1 cup grated Parmesan cheese
Directions:
Preheat oven to 350 degrees F (175 degrees C). Place pumpkin on a baking sheet and roast in oven until browned and tender, about 30 minutes. Place green pepper rings on baking sheet in oven for last 15 minutes of pumpkin time; cook until tender.
In a medium bowl, stir together ricotta, feta, pesto, eggs, salt and pepper until well mixed. Fold roasted pumpkin into ricotta mixture.
Spoon half of the tomato sauce into a 9x13 baking dish. Sprinkle with italian herb seasoning. Lay three lasagna noodles over the sauce. Arrange a single layer of green pepper slices over pasta and top with half the ricotta mixture. Cover with three more noodles. Spread the diced tomatoes evenly over the noodles and spoon the remaining half the ricotta mixture over the tomatoes. Sprinkle with half the mozzarella. Top with remaining three noodles. Pour remaining tomato sauce over all and sprinkle with remaining mozzarella and Parmesan. Bake in preheated oven 30 to 40 minutes, until golden and bubbly.